EPD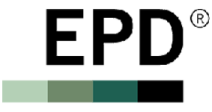 An Environmental Product Declaration (EPD) is a comprehensive, internationally standard report that documents the ways in which a product, throughout its lifecycle, affects the environment. EPDs help customers better understand a product's sustainable qualities and environmental repercussions so they can make more informed product selections.
An EPD tells the complete story of a product in a single, written report, including information about a product's environmental impact, such as raw material extraction, energy use, air, soil and water emissions, water use and waste generation. EPDs distil complicated information to empower our customers, architects and designers, procurement agents and consumers to make informed decisions. EPDs can be developed after a product lifecycle assessment (LCA) is conducted, and are based on applicable product category rules (PCRs). GH Commercial's EPDs are third-party verified. They include information on the following topics:
Material Content
Recycled Content
Service Life
Global Warming Potential
Water Consumption
Emissions to air and water
Waste generation
Ozone depletion potential
Respiratory effects
Please refer to individual product pages to identify which product certifications apply to your products.