You dream it. We design it. We deliver
If you can dream it, we can design it. Whatever your project, vision or budget, GH Commercial makes bespoke carpet and flooring a reality.
Stand apart, create a mood, or tie a space together to tell a story. From easy online customisation to a fully bespoke design with our local in-house design team, our fast, flexible and cost-effective offering can help you realise infinite design possibilities.
Many clients say our custom capabilities save time and streamline the selection process by delivering on the design brief from the very beginning.
Design with us
1.
Concept
Looking for custom flooring to make your next project stand out? Get started now with our easy, online visualiser tool, or send us your idea - we love a challenge!
2.
Design
Let's create. Choose and tailor the colour of your design from our online library, or get in touch to let our talented in-house team help you realise your vision.
3.
Visualise
Submit your bespoke design to our team who will help you visualise your concept with a 3D rendering, or by overlaying floor plans. In just two weeks, you'll have a design PDF ready for sign off.
4.
Sample
Like what you see? You'll receive a free hand trial within two weeks of approving your design PDF, so you can experience the texture and colour of your creation.

5.
Manufacture
Approved! Once you're happy with your hand trial, your order will go into production with our experienced manufacturing team to meet your project timeline.
6.
Deliver
With Australia and New Zealand's largest network of installation contractors and retail partners, plus the logistic capacity to support them, we'll ensure your unique space comes to life.
Types of custom flooring
From fast turnaround Designer Jet® designs, to luxurious wool blend woven carpets made for high end projects including our handmade rug capabilities and Pattern Perfect® carpet tiles, the latest tufting technology.
At GH Commercial, we continue to develop our custom manufacturing technologies so, no matter what your project parameters or how much they change, you can be confident we'll deliver a unique flooring solution and service that meets your needs
Designer Jet® Precision Dye Injection Carpet
Our world-class Designer Jet® precision dye injection technology offers a highly flexible, creative solution you never thought possible in a carpet. Made in Australia, we can produce small minimum order quantities in as little as 3 weeks.
Minimum Order:

20m2

Lead Time:

3 Weeks

Cost Indication:

$$

Colours:

CMYK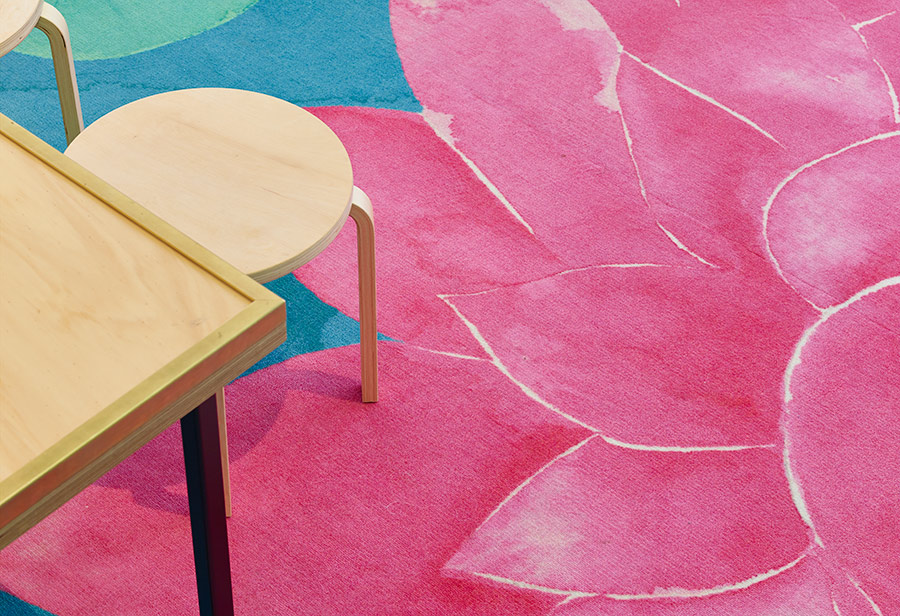 Traditional weaving meets cutting-edge technology. For luxe commercial interiors, our custom woven carpets are crafted from a rich, premium wool blend bringing quality and character to your project.
Minimum Order:

220m2

Lead Time:

12-16 Weeks

Cost Indication:

$$$

Colours:

288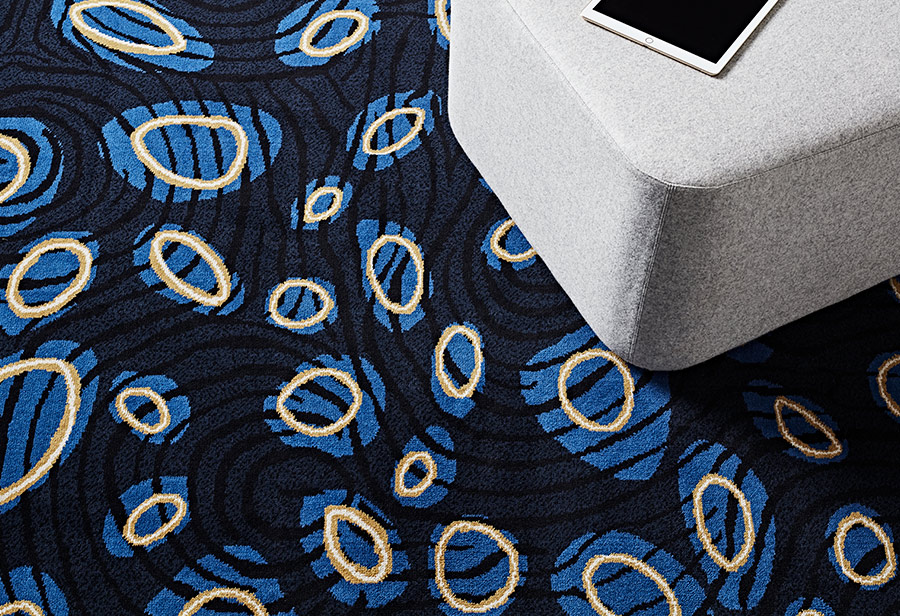 Create your own bespoke axminster carpet and Fast Track® it for your next project. Featuring two carefully curated colour palettes, each containing 12 colours, your custom Fast Track® carpet can be brought to life in 3 simple steps.
Minimum Order:

73m2

Lead Time:

8 Weeks

Cost Indication:

$$$

Colours:

Hospitality palette 12 colours & Neutral palette 12 colours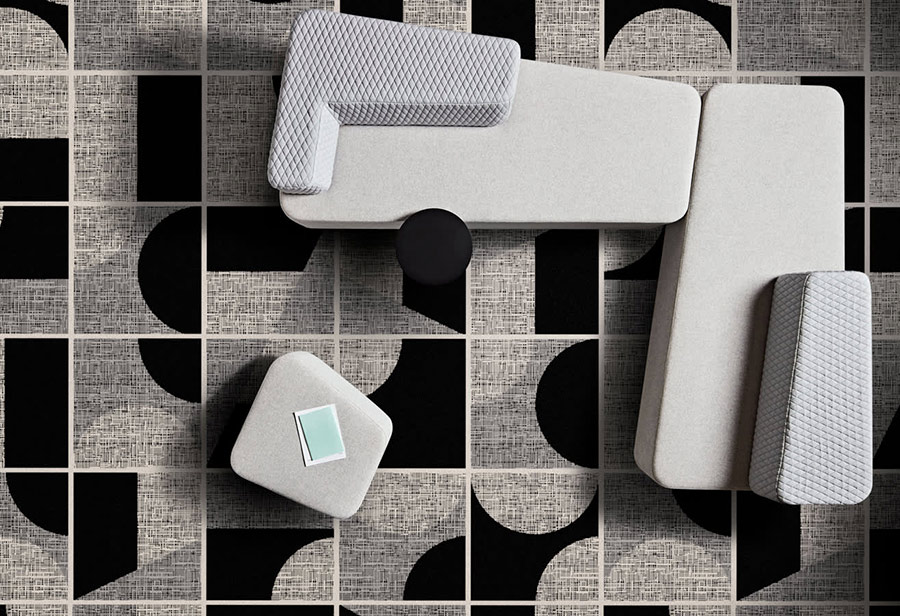 Pattern Perfect® Tufted Carpet
Offering the ultimate design freedom, with large scale designs for public spaces to intricate details to blend patterns across different configurations. Let Pattern Perfect® create your unique carpet tiles and planks.
Minimum Order:

200m2

Lead Time:

6-8 Weeks

Cost Indication:

$$

Colours:

Up to 4 colours per design
Whether it's a complementary piece, or a standalone project, we can design premium hand crafted rugs in wool, silk, viscose or cotton to suit any surface or interior.
Minimum Order:

n/a

Lead Time:

12-16 Weeks

Cost Indication:

$$$$

Colours:

288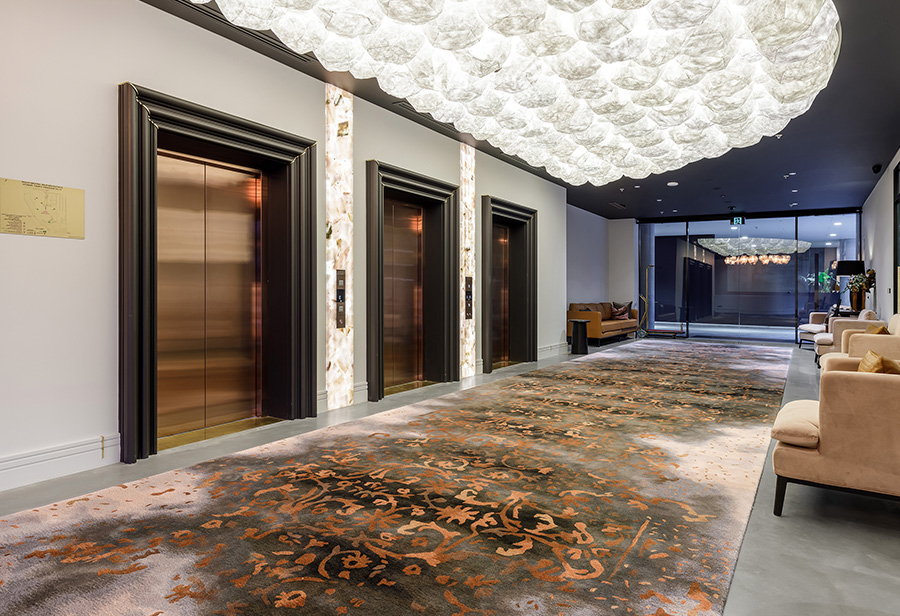 Fast, flexible and cost-effective. With GH Commercial, designing quality custom flooring creations is easy.

Performance & Durability
All custom products are designed for commercial applications in mind and are eligible for a commercial warranty. Many of our carpet products are independently graded with heavy or extra heavy duty performance ratings by the Carpet Institute of Australia's Australian Carpet Classification Scheme.
Bespoke Capability
With virtually limitless colour and design capability, let us make a flooring as unique as your project's interior.

Fast Turnaround
Our experienced in-house design team can help create your custom carpet in line with your projects timeline.

From printed designs in as little as 3 weeks, to plush woven luxury in just 8 weeks*.

Cost Effective
With zero design fees, smaller minimum order requirements and price to suit any budget, our custom solutions makes bespoke flooring a reality for any commercial interior.
Ongoing Service
Our local teams based in every state are here to support your project journey, from idea to execution and beyond.

Design Collaboration
Enjoy an expert team by your side, a streamlined process, plus design, and customer service all done locally, so we can finalise your design fast.

Custom hard flooring
Hard floors are no exception to our custom offering. From timber to laminate, vinyl planks to hybrid solutions, we can create bespoke commercial flooring from over 2,500 designs and 10,000 colours.
Contact us to find out more
Sustainability
We can also provide custom products that work with sustainability certification tools and other certifications requirements under the National Construction Code, such as the Green Building Council. In addition, read our Modern Slavery statement to learn about our commitment to ethical and responsible conduct in our operations, respect for rights of individuals and respect for the environment.
Find out more here
Lead time: From order date. This is the anticipated supply time, however variations may occur due to seasonal delays and for large or complex projects.
Minimum Order quantities: 20LM/73m2 for existing designs, 60LM/220m2 for new custom designs.
Cost Indication should be used as a guide. Contact your GH Commercial Consultant for accurate pricing.
Design with us: this service is only available to approved commercial businesses with a GH Commercial account.