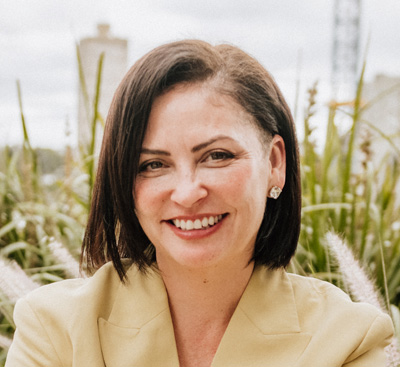 Lorena Gaxiola, an internationally acclaimed interior architect and designer renowned for her expertise in creating bespoke spaces that add value to any project.
With over two decades of experience, Lorena has worked across Europe, the US, Australia and China, making her well versed in global market trends.
Based in Sydney, Lorena leads a team of multi-faceted female creatives, dedicated to offering clients a holistic approach, combining conceptual architecture, interior designs, product development and branding to deliver a client-centric service.
In this exclusive interview, she talks about the influences, concepts and ideas that have made her an award-winning Interior Architect & Designer who provides strategic and unique solutions for progressive property developers across the world.
"My nature is to be very curious, and I am a gutsy person," she says.
"I don't tend to design under one aesthetic. I like to say that I bring form and function to my clients' requests or that I'm a curator of their vision".
Lorena, who is American with a Mexican background, grew up in a family of architects and builders that inspired her down the path of interior design. She now heads up a renowned all-female creative agency based in Sydney that specialises in creating bespoke spaces.
When Lorena was working on interior design for the new 47-storey building, The Lennox, in Parramatta she was adamant that the many corridors would not have lacklustre carpets. She took this vision of stand-out flooring to the next level by designing her own carpets for the building in collaboration with GH Commercial.
"Working with the GH Commercial internal design team we were able to create a beautiful pattern inspired by the riverfront, and we were able to produce it and the builder liked it and the developer liked it, and it looks amazing. It's an artwork in what could have been a dull corridor".
Lorena went back to the GH Commercial team to discuss flooring designs for her upcoming projects. The team was keen to collaborate further, and she is now developing a bold new range of commercial carpets with them.
Lorena says the element of surprise is everything in commercial design.
"Operators need to have a sense of surprise, it's highly competitive out in the market and travellers are becoming a lot more savvy. And then we have social media now as a way to express and show people how it can be an Instagramable moment so really this is why the pop of colour and strong artwork is important in dull spaces and I think this is where the trend is definitely heading in hospitality".
She believes colour is under-utilised in hospitality design, with people underestimating the power of colour theory.
"Imagine how much information people are seeing every day through social media. How do you stand out? Colour is the way to stand out…It is a way to grab people's attention because it's a memory point. Colour really affects the mood of a space in a room".
She says with people exposed to so much media and so many images these days it's easy to be inspired by other designers' work and play on that. But when it comes to the big brands, they don't want to look like anyone else.
"People need to be surprised. People need to be original, especially the big brands".
When asked about her dream design project, Lorena said she is lucky enough to have ticked just about every box already.
"This year I've even been invited to design a synagogue in California. A yacht is the only thing I haven't done yet, or perhaps something in the Metaverse".
Listen to Episode 176: Lorena Gaxiola on the changing trends and challenges of hospitality design.