Melbourne International Comedy Festival 2023 x GH Commercial
.

The Melbourne International Comedy Festival is one of the top three comedy festivals worldwide. This annual event stretches out across Melbourne throughout multiple venues every year offering a range of entertainment, stand-up comedy, cabaret, theatre, street performance, film, television, radio and visual arts. With a wide range of performances of local and international acts, the Festival is a popular cultural event with something for every comedy lover to enjoy.
The Melbourne International Comedy Festival aims to discover, develop and showcase great talent for the entertainment and inspiration of a broad-based audience. The Festival values irreverence, inventiveness and creativity, inclusiveness and accessibility, freedom of speech and respect for all. We are proud to be partnering with the Melbourne International Comedy Festival 2023, supplying a range of standard and custom carpet flooring solutions at selected venues throughout the Festival.
GH Commercial along with Godfrey Hirst are proud to be flooring supporting partners of the Melbourne International Comedy Festival 2023. As a local manufacturer, being able to support local events is important to us and gives us the opportunity to collaborate on community events in our area. Here at GH Commercial, we have a passion for creativity and inclusion, our decision to partner with the Melbourne International Comedy Festival 2023 provides the perfect opportunity to align our values and celebrate performance and creativity.
To celebrate this partnership, GH Commercial are running a giveaway through Indesign Live where you can be in the running to win 1 of 2 double passes to the Melbourne International Comedy Festival 2023.
Entries open March 1st – March 29th 2023. Terms and Conditions apply.
Enter Now!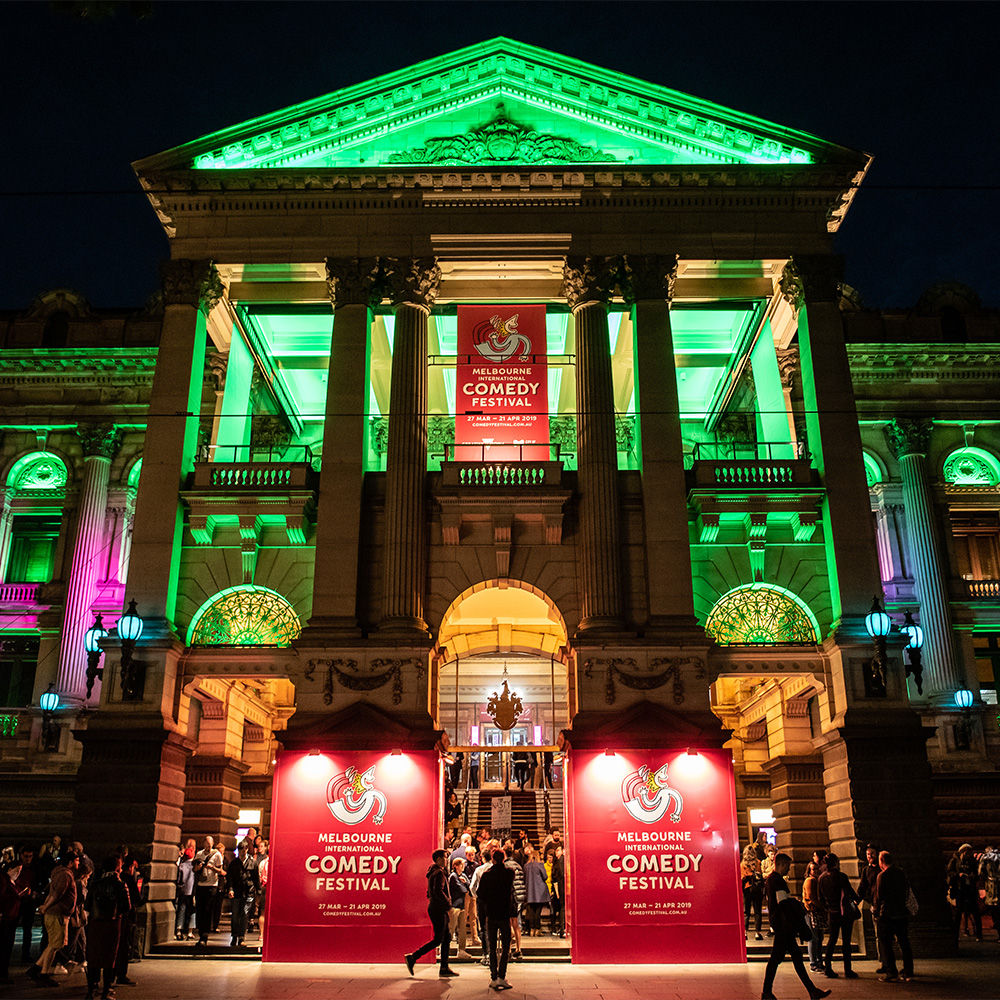 Designer Jet® is a world class custom carpet technology for creating an infinite array of colours and bespoke designs you would never have thought possible in a carpet. It works by taking any striking pattern, drawing or image and using precision engineering to inject the dye into the carpet, offering a flexible, creative and performance driven carpet solution. Melbourne International Comedy Festival required a range of bespoke carpet designs to pair with each unique venue and vision that are utilised throughout the festival. Designer Jet® provided the ideal flooring solution and enabled the team at Melbourne International Comedy Festival to work alongside GH Commercial's design teams to create a range of unique and branded designs to meet the required needs of each venue.
Our new Native Collection also provided a perfect standard product to be utilised in the Chinese Museum and Swiss Club for the Melbourne International Comedy Festival. Toatoa in colour 97 Horopito was used throughout these venues. This carpet plank product is inspired by natural lichen bark patterns found in trees native to New Zealand, Toatoa creates relaxing optics through repetition. The dappled display of nature's shades forms a quiet, continuous appearance that lends itself to a variety of applications.
Flooring
Designer Jet® custom carpet: Melbourne Town Hall, Trades Hall and The Victoria Hotel.
Toatoa – 97 Horopito: Chinese Mseum and Swiss Club.
Be inspired! View the Native Collection