Faces Of Australian Manufacturing
.

This Australian Made Week, we're celebrating the incredible faces behind our local manufacturing. Our local investment in people, manufacturing, warehousing, and distribution provides total supply chain capability, ensuring quality control and consistency from product design, right through to delivery. We are proud to have a loyal and long-serving inclusive and diverse workforce while managing organisational renewal to ensure an excellent mix of new thinking and deep knowledge.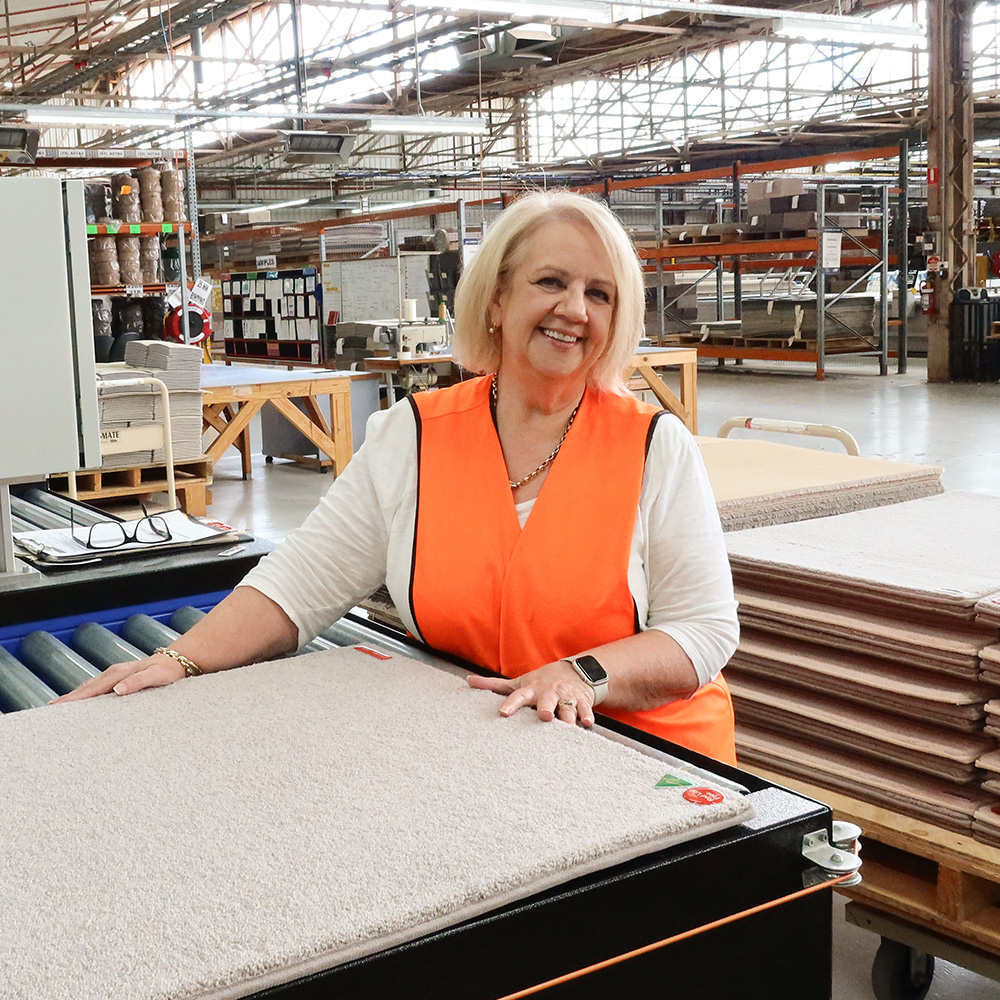 Cindy Martin - Samples Manager, at Godfrey Hirst and GH Commercial
Cindy has been at Godfrey Hirst for forty years, starting out in Colour & Design, moving into Marketing, and then establishing the Merchandising program, which involves Merchandisers assisting the Sales teams nationally in store with our retail partners. After looking for a new challenge, Cindy moved into her current manufacturing role, leading the Samples division.
The Samples Department manufacture all carpet samples for Australia, located in Breakwater, Geelong. Cindy cites the value of local manufacturing in quality assurance, and the rapid turnaround when releasing new and exciting, high-quality products to the market. Working with a local team, with the proximity of Samples to the Godfrey Hirst head office and other manufacturing sites, there is a strong sense of community and collaboration within the business.
"I feel very fortunate to be part of the wonderful Godfrey Hirst 'home grown' story. Our team takes pride in every sample produced, with the hope the consumer sees the quality and elects to carpet their home with our beautiful Australian Made product." – Cindy Martin, Samples Manager
Another Face of Australian Manufacturing - Craig Herbert's Story
Craig Lindsay - Operator, Designer Jet® at GH Commercial
Craig has worked for Godfrey Hirst for over 28 years, where he started as an operator within Godfrey Hirst's dyehouse in 1994. Working various roles within the dyehouse for the 17 years that he remained there, Craig built extensive knowledge and expertise that is required for dye processing within the carpet manufacturing process.
In 2011, the dyehouse at Godfrey Hirst was decommissioned and moved to continue operations by Godfrey Hirst. At this time, Craig then worked as an operator on the dryer at the finishing line within Godfrey Hirst's local carpet manufacturing processes at the South Geelong plant. After just a few months, the perfect opportunity arose for Craig to utilise his skills within the Designer Jet® production team where he could implement his extensive dye knowledge and expertise when operating our custom Designer Jet® precision injection technology.
As part of this team, Craig operates the print head where dye is injected into the carpet greige to create an almost endless range of custom carpet capabilities. Craig also further utilises his dye expertise by mixing custom dyes for custom carpet requirements, as well as being a licensed forklift driver. Craig holds a range of expertise that are highly valued in this niche manufacturing process.
Australian Made Carpet