Celebrating Australian Made Week
As one of Australia's largest manufacturers and exporters of residential and commercial carpets, Godfrey Hirst produces thousands of metres of carpet in state-of-the-art Australian facilities every day.
We proudly operate four carpet manufacturing facilities, three yarn processing facilities, 10 distribution centres, and 14 sales offices across Australia and New Zealand. Currently, Godfrey Hirst employs over 1,000 people, of which roughly half are employed in Australia and half in New Zealand.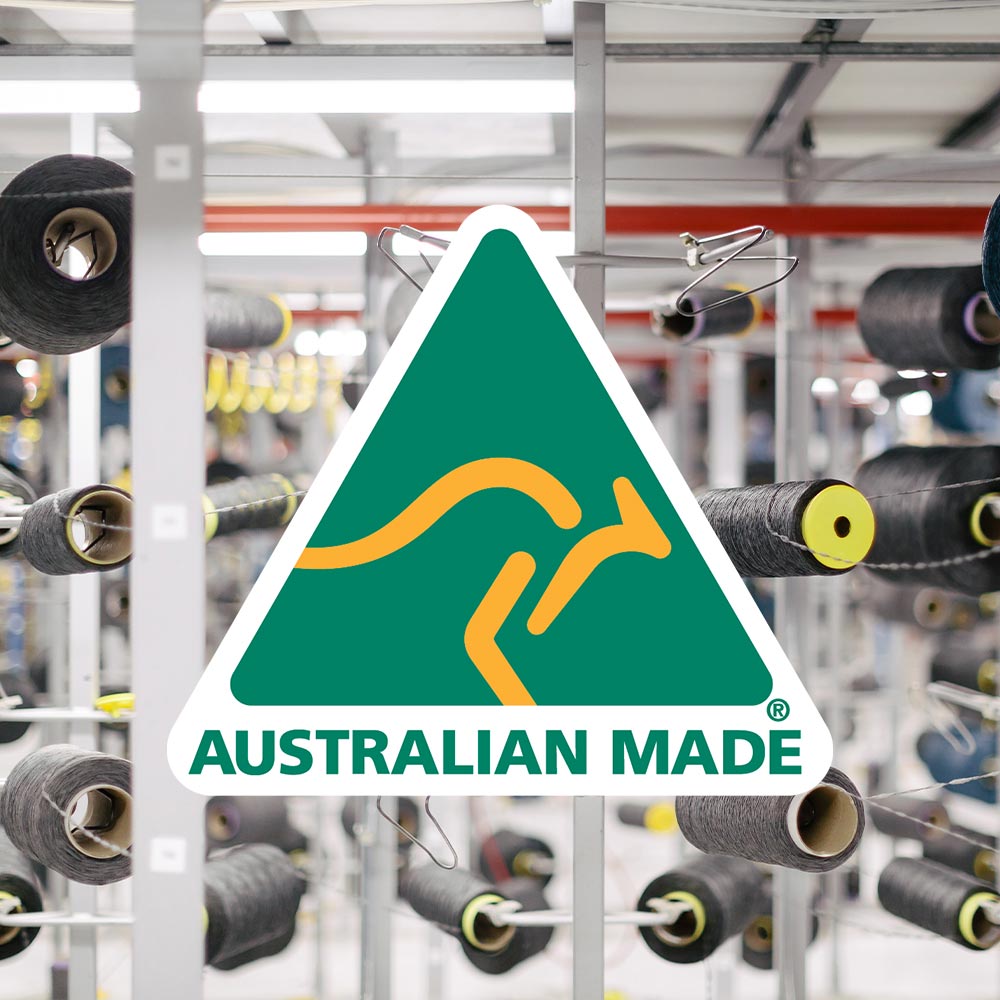 Our Australian history spans back to 1865, when the Victorian Woollen and Cloth Manufacturing Company began operations in Geelong and was purchased in the 1890's by Godfrey Hirst. Godfrey Hirst's entrepreneurial skills and knowledge of the industry lead to the great success that was furthered even more so by the McKendrick family in the 1960s. In 2018, the Godfrey Hirst business was acquired by Mohawk Industries, the world's largest flooring company, expanding its product offering and capabilities to a global scale.
Commercially, our customisation capabilities and vast archive of designs are trusted for major projects in all market segments across workspace, retail, hospitality, healthcare, education, public space and multi-residential in Australia, New Zealand and around the world.
Our partnership with the official Australian Made campaign aligns us with Australia's most trusted, recognised and widely used country of origin symbol, underpinned by a third-party accreditation system that authenticates genuinely Australian products.
Keeping it local
Celebrating local since 1865.
Our local investment in people, manufacturing, warehousing, and distribution provides total supply chain capability, ensuring quality control and consistency from product design, right through to delivery. We are proud to have a loyal and long serving inclusive and diverse workforce while managing organisational renewal to ensure excellent mix of new thinking and deep knowledge.
As a global flooring solution provider, we offer the largest portfolio in the world, featuring products that people trust to use in the spaces they live, learn, work, play and rest. Through our local in-house design, manufacturing and distributing facilities, we provide locally based support with our passionate and knowledgeable design and sales teams. From high quality Australian and New Zealand Made wool, synthetic and triexta carpets, and an extensive range of carpet tiles and planks along with world class hard flooring solutions in hybrid, timber, laminate and vinyl our goal is to connect you with the right product and make specifying flooring for your next project a breeze.
First Australian Carpet Manufacturer to achieve Climate Active Carbon Neutral Organisation Status
Taking real climate action as an organisation means voluntarily going above and beyond current regulations to achieve net zero carbon emissions. At Godfrey Hirst, we do. Godfrey Hirst Australia has achieved Climate Active Carbon Neutral organisation status and are proud to be the first Australian carpet manufacturer to do so. Furthermore, Godfrey Hirst New Zealand is also now a carbon neutral organisation.1
Investing in innovation and technology are the hallmarks of Godfrey Hirst, and when it comes to improving existing systems and processes our commitment to excellence is continually at the forefront.
1 Godfrey Hirst Australia Pty Ltd and Godfrey Hirst NZ Ltd are 'carbon neutral' organisations. This means that those entities purchase and voluntarily retire carbon offsets equivalent to their annual carbon dioxide equivalent greenhouse gas (GHG) emissions from sources within their organisational boundary. For New Zealand, organisational GHG emissions are accounted for in accordance with ISO14064-3:2018.
Carbon Responsible